Found 842 Results
Page 2 of 85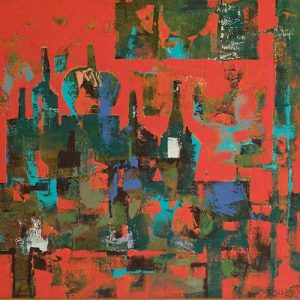 William M. Halsey, an American artist (1915-1999), established the studio art program at the College of Charleston in 1964. He served as assistant professor and artist-in-residence at the College for nearly twenty years; upon his retirement the faculty voted unanimously to name the art gallery at the College in his honor. Corrie McCallum, Halsey's wife, …
---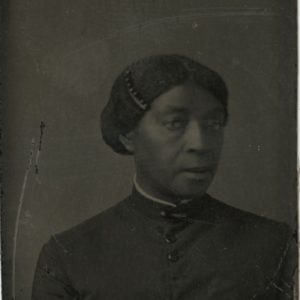 The Walter Pantovic Slavery and African American History Collection contains documents and images that reflect African American history primarily in the United States. Walter Pantovic was a Yugoslavian immigrant with an interest in Black history, in particular the history of Slavery and the Civil War. Highlights from this collection include slave bills of sale, glass …
---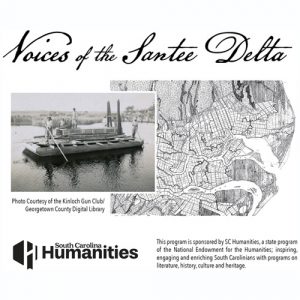 The Voices of the Santee Delta project's primary purpose will be to record an oral history of this significant biological and historic area. The Santee Delta was once the location of an important branch of the Rice Kingdom, and a slave labor force whose descendants have provided a lasting Gullah culture. The voices are diverse, …
---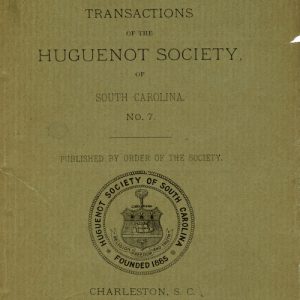 The Huguenot Society of South Carolina was founded in Charleston in 1885 to preserve the memory of the French Protestants who fled Europe during the 1600s and 1700s, many of whom made their way to Colonial South Carolina. The Society's founders resolved to "prepare for publication and distribution to members … such proceedings as they …
---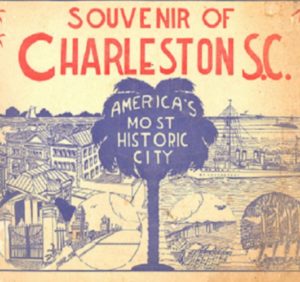 This collection includes pamphlets, brochures, and souvenir booklets that feature historic buildings, landmarks, historic sites, and other points of interest. Many include Charleston history, narrative descriptions properties, photographs, and other illustrations. The collection spans 1890-1940.
---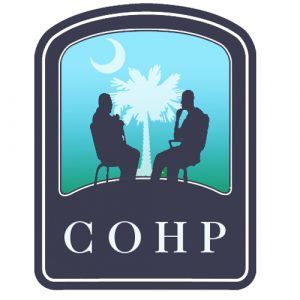 Founded in 2008, The Charleston Oral History Program seeks to deepen understanding of the Lowcountry's rich history and culture through the gathering and presentation of recorded memories from area residents. The Program has three main objectives: 1. Program staff and their associates conduct interviews with people from all walks of life in order to promote …
---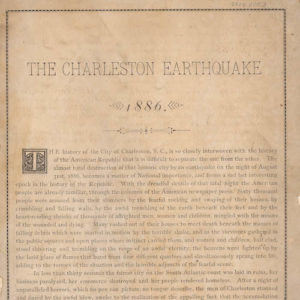 Photographs of the damage caused by the Charleston Earthquake of 1886. Photos are captioned with details, including the dollar amount of the damage. Introductory text by Alex. M. Cochran. Also includes advertisements for a variety of Charleston businesses, trades, merchants, and professionals. Publisher unknown. 70 p.; 24 cm.
---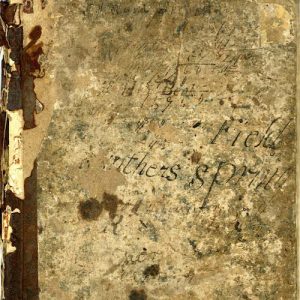 The Springfield Plantation journal collection contains a bound plantation journal and loose papers pertaining to Springfield Plantation owned by Francis Withers (1769-1847) and later by Joshua John Ward (1800-1853) in Georgetown County, South Carolina. The journal (1831-1864) contains the names of enslaved men, women and children on Springfield Plantation as well as births, information on …
---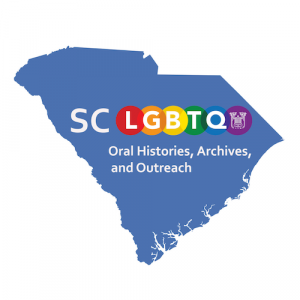 These oral histories, a part of the SC LGBTQ: Oral Histories, Archives, and Outreach Project, are narratives of mostly lesbian, gay, bisexual, transgender, queer, and questioning (LGBTQ) people in South Carolina. The oral histories are archived in Special Collections at the College of Charleston's Addlestone Library and are part of the SC LGBTQ's mission to also collect and make …
---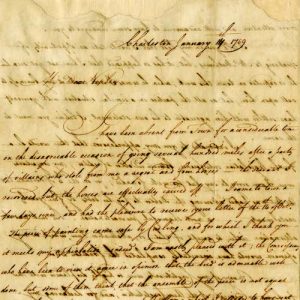 The selected manuscripts date from as early as 1774 and contain evidence of the lives and experiences of enslaved persons in South Carolina. The items include bills of sale, plantation ledger lists, land plats, court records, family papers, correspondences, labor contracts, last will and testaments and estate records. These manuscripts have proven essential in genealogical …
---
Page 2 of 85