About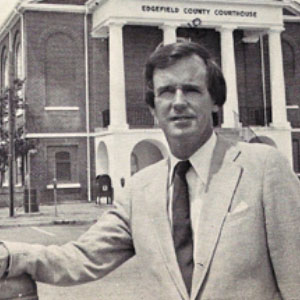 "Butler Derrick is a true leader, a man of principle and integrity. When the public thinks of Congress, I'd be proud if they thought of Butler Derrick, because he was a member of the House in the finest sense of the word." So said Former Speaker of the House, Thomas Foley, upon Butler Derrick's retirement from the House of Representatives in January 1995.
Elected to Congress in 1974, Butler Carson Derrick (1936-2014) represented South Carolina's Third District from 1975 to 1995. Derrick's service was marked by influence, from his early appointments to the Budget and Rules Committees, to his mid-career service on the Congressional Textile Caucus and the Democratic Steering and Policy Committee, and culminating in his appointment as Chief Deputy Majority Whip.
Seen by his party and others in Congress as a bridge between liberals and conservatives, Derrick was elected in 1986 to serve as a regional representative to the Democratic Steering and Policy Committee, which sets Party policy and makes committee assignments for the Democrats in the House of Representatives.
At the time of his retirement, Derrick was considered one of the ten most influential members of Congress.
Related Terms: