About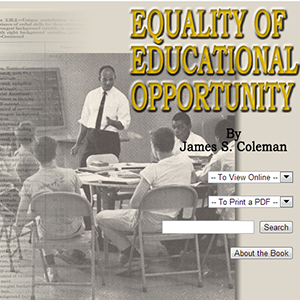 This report is submitted in response to Section 402 of the Civil Rights Act of 1964:
SEC. 402. The Commissioner shall conduct a survey and make a report to the President and the Congress, within two years of the enactment of this title, concerning the lack of availability of equal educational opportunities for individuals by reason of race, color, religion, or national origin in public educational institutions at all levels in the United States, its territories and possessions, and the District of Columbia.
From introductory letter by Harold Howe II, U.S. Commissioner of Education, 1966, as published on p. iii of the report.