About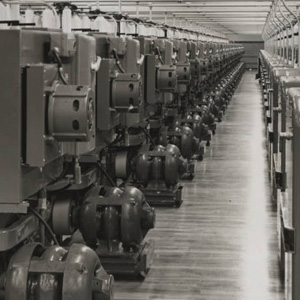 The Greenwood Mills Photograph Collection consists of photographs housed in the Self Family Foundation Archive at Lander University. The digital collection primarily includes photographs of Greenwood Mills buildings, plants, equipment, and, especially, mill workers.
James C. Self assumed general ownership of Greenwood Mills in 1908 and grew the operation into a successful international corporation, consisting of textile mills in and outside of Greenwood County, mill villages, sales offices and a corporate headquarters. Mr. Self believed in respecting and valuing his work force and instilled this philosophy into both Greenwood Mills' day-to-day operations and his service to the Greenwood community.
In 1942, Mr. Self created the Self Family Foundation to fund the construction of Self Memorial Hospital.  Today, renamed Self Regional Healthcare, the hospital is a major medical center serving a seven county region of South Carolina.  With the building of the hospital, the Self Family Foundation initiated a philanthropic commitment to Greenwood community that continues today, with emphases in community healthcare, education, genetics, youth development, and the arts.
Related Terms: