About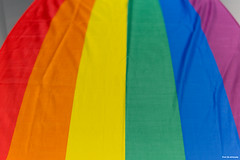 LGBTQ Studies is a special-topics course taught periodically in the Department of Sociology, Criminal Justice, and Women's & Gender Studies at the University of South Carolina Upstate.  In the spring of 2018, it was offered with a new component designed to introduce an element of High-Impact Practice (HIP) to the classroom through oral history collection.  Through a partially-imbedded librarian model, the University Archivist partnered with the Director of the Center for Women's and Gender Studies to train students in the baseline skills of oral history collection, while classroom discussions served to ground the students in theoretical knowledge about issues relating to the community being interviewed.  These students are not professional historians, and as such there is a variation in the depth, breadth, and length of the histories collected.  Nevertheless, they provide a basis of study and connection to the LGBTQ community that did not previously exist.
While originally conceived as a HIP component, it quickly became apparent that this offered an opportunity to connect with the LGBTQ community in the upstate of South Carolina, and provide a means for their stories and experiences to be archived and made available for further research and study by scholars.  As a historically underserved community, this project also serves as a way to correct incomplete and biased or distorted historical and social records of the LGBTQ experience.
The 2018 collection of oral histories, recorded by students in the LGBTQ Studies course, focuses on the stories of selected leaders within the LGBTQ community of the upstate of South Carolina.  The 2019 collection, also recorded by students, presents the experiences of African American members of the LGBTQ community, also known by many as queer and trans people of color (QTPOC).  Plans are underway to collect a third set of oral histories during the spring of 2020.
Related Terms: