About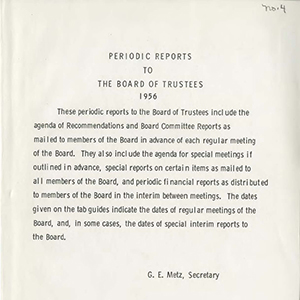 Since its beginnings in 1888, the Clemson University Board of Trustees is the main governing body for the university. As defined in Thomas Green Clemson's will, the Board of Trustees consists of seven Trustees who select their successors and six Trustees who are appointed by the State Legislature. The Board's main responsibility is to govern through establishment of policies that ensure academic quality and freedom, protect the University's financial security, and ensure efficient and effective administration through the Board's selected president and its executive officers.
These periodic reports to the Board of Trustees include the agenda of Recommendations and Board Committee Reports as
mailed to members of the Board in advance of each regular meeting.
Related Terms: