About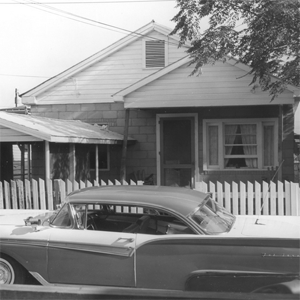 This collection from Historic Charleston Foundation consists of B&W photographs of buildings and other properties located in Charleston County that were destroyed, relocated, or otherwise modified because they were in the right-of-way of where roads were being constructed or widened. Building and dwelling types include houses, apartment buildings, freedman's cottages, mobile homes, commercial and industrial buildings, churches, schools, gas stations, restaurants, grocery stores and corner markets, garages, sheds, outhouses, and other outbuildings.
Roads include Interstate 26 (I-26), Route 171 (Folly Road/St. Andrews Boulevard), Route 17 (a portion of which is known as Savannah Highway), State Road 894 (Azalea Drive), State Road 31 (Reynolds Avenue), and State Road 13 (Remount Road). It is notable that some photographs in the U.S. Route 17 and I-26 groups show the area affected by the construction of the Crosstown and the Silas Pearman Bridge (a/k/a Cooper River Bridge).
Many photographs depict Charleston County street scenes in the 1960s, showing people and pedestrians, cars, billboards, signage for businesses (including gas prices), etc., as well as the architectural styles of commercial buildings and residences throughout the county.  Additionally, residents of several dwellings appear in many of the photographs.
Only a portion of specific addresses and/or locations are identified. However, each photograph contains the name of the property owner which may be useful in a keyword search of the collection. Addresses may also be determined by looking up the property owner's name in city directories, but note that the property owner and resident may not be the same person. There may be multiple views of the same structure, which will be evident by comparing the property owner's name, tract number, and station notes. Of note, addresses have been identified for the buildings and properties affected by the construction of both the Crosstown (U.S. Route 17) and I-26 in the area located within Charleston city limits in the upper part of the peninsula). Those addresses were determined by the 1951 Sanborn Map of Charleston, volumes 1 and 2.
Some photographs are marked in ink showing the area to be affected by the right-of-way. Most photographs also feature SC Department of Transportation surveyors indicating the location and direction of the future roadway by their stance or by their use of surveying range poles.
The collection is organized by road, then by docket number, within which most are either in chronological order or organized by tract number. The reverse side (verso) of each photo includes Docket (Dkt.) number, Route, County, Property Owner, Tract, Station, and Date. (See below for explanation.) Many also have a brief surveyor's note related to the right-of-way status. Samples of the reverse side of photos are also included. Original photographs are 5″ x 7″.
The following is a brief guide to understanding the station description:
+: Plus sign
±: Plus or minus
Rt: Right side of the road
Lt: Left side of the road
CL: Center line of the road
R/W: Right-of-way
S.B.: Southbound
N.B.: Northbound
∆: Triangular area of land or a median
The stationing of roads is done in survey feet, not inches. Surveyors use feet, tenths, and hundredths of a foot. For example, the beginning of a road would be 0+00 (zero feet) and for every 100 feet, the number increases to 1+00, 2+00, etc. Therefore, if a station is 42+00 Rt, it is 4,200 ft. from the beginning of the road on the right side. (Note that right and left are related to the stations as they increase.) The beginning stations are usually at the start of a subdivision or at the "T-intersection" of roads. (Explanations provided by Roy T. Adams, Surveyor, SC Dept. of Transportation.)
Related Terms: