About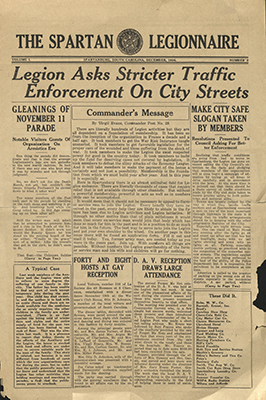 The Spartan Legionnaire was the official monthly publication of Post No. 28, the American Legion, Department of South Carolina. The publication was established to inform the members about any news, programs, or events that the American Legion was conducting both locally and across the nation.  This is volume 1, number 2, and is the only extant edition of the paper we have located so far. It is unknown how long publication of the Spartan Legionnaire lasted.
The Spartan Legionnaire appeared in print for the first time approximately two months prior to the appearance of the National Legionnaire, the national newspaper of the American Legion. Published monthly by the national headquarters in Indianapolis, Indiana from January 1935 through November 1948, the National Legionnaire has been digitized and is available for viewing at the American Legion's Digital Archive (https://archive.legion.org/).
Chartered in 1921, Post No. 28's current home in Spartanburg, South Carolina was opened on June 25, 1937.  Designed by architects Lockwood, Greene and Company, the Colonial Revival building was constructed by the Works Progress Administration (WPA) and is on the U.S National Register of Historic Places.