About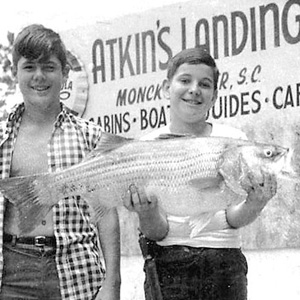 Atkins Landing – The landing was on the shore of one of the Santee-Cooper Project's lakes, Lake Moultrie, near Moncks Corner. S.C. Milton "Flippo" and Henry "Stringbean" Atkins, two brothers who had grown up in Vance, S. C. were ardent fishermen. They recognized the lake as a fisherman's paradise that would attract not only locals but out-of-state anglers. In 1954, Flippo Atkins with his brother, Stringbean leased land from Santee Cooper and started their business, Atkins Landing. Several years later, Flippo bought out his brother.
The landing started out simply with a boat launch, a small bait shop, and an ice house. Camping spots were rented to people with tents, campers, and renovated buses. Flippo, his wife, Inez, and son Butch began their stay in a converted city bus that Stringbean had bought at an auction. Flippo added a connected bathroom and den. In a few years, they moved into the house he and Stringbean built with reclaimed lumber from their home place in Vance. The Atkins were right on target about the lake attracting anglers, both local and abroad. Flippo had built a nice tackle shop and grocery. Business was booming.
Flippo and Inez raised their children: Butch, Cathy, and Dawn here. Flippo was the owner/operator of Atkins Landing until his death in 2002. At that time, Butch and Inez managed the business. Sadly, Butch passed away in 2011. Inez then ran the business until 2014, when Santee Cooper did not renew the lease. Santee Cooper partnered with Berkeley County to create a mega boat landing on the site of the landing and Lions Beach. All that remains of the 60-year-old business is the boat launch.
Related Terms: