About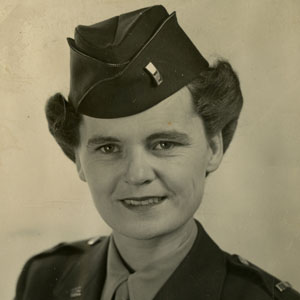 After growing up very poor on a farm as the fifth of eight children, Gussie Kennerly Johnson (1915-2000) defied the odds: she got a college degree and served as an officer in the U.S. Army during World War II as a member of the Women's Army Corps (WACs).
After the Pearl Harbor attacks on December 1941, Gussie Johnson's husband felt the need to enlist in the US Army. She left her teaching job to follow him place-to-place for eight months before he went to Europe. Once he left for Europe, Gussie decided to enlist herself at the end of 1942.
She went to Basic Training in Daytona Beach, FL. After completing Basic Training and Cadre Training, she was offered the chance to go to Officer Candidate School (OCS) – which was completed in Des Moines, IA. She recalls believing that in the first two weeks of Basic Training she had made the biggest mistake of her life. She left a good teaching job and cut her salary almost in half. However, after those initial two weeks, she "loved every day of it."
Her first assignment after OCS was at Fort Oglethorpe as a Commanding Officer of Basic Trainees. Her second and final assignment as an officer was presiding as the Commanding Officer over three hospital companies and detachment. In January 1945, Gussie was promoted from 2nd Lieutenant to 1st Lieutenant. Her family and her husband's family were quite proud of her, but her husband refrained from telling people she was in the service. She outranked him.
She describes the role of the WACs as women who were trained to replace men so that men could go fight. Women were trained as technicians, mechanics, etc. WACs were not issued guns but were trained to defend themselves against chemical attacks.
At the end of the war, Gussie faced a choice: she could stay in and promote to Captain or she could go home to her husband. She wanted to stay, but her husband forced her to choose between the Army and him. She chose him. After returning home, she got her Master's Degree in Elementary Education and continued her teaching career.  Gussie Johnson also published the book "Noises in the Henhouse" in 2000 about a small group of retired women who have been making quilts, crafts, and preserves for charity for over 23 years.
Materials provided to the South Carolina State Museum and the South Carolina Confederate Relic Room and Military Museum by Gussie Johnson's family. Biography compiled from a 1991 interview with Gussie Johnson by the South Carolina State Museum.
Digitization by Tamala Malerk and the South Carolina State Museum staff.  Digitization assistance also provided by the South Carolina State Library.