About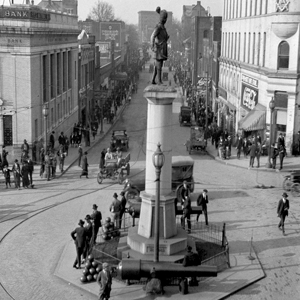 The Herald-Journal Willis Collection is the centerpiece of the Spartanburg County Public Libraries' visual arts holdings. The collection of over 400 historical photographs was donated by the Herald-Journal in 1999.
Most of the photographs were taken by Alfred Tennyson Willis, a Spartanburg commercial photographer, and date from the early 1900s to the 1940s. Alfred's son Robert Henry (Bob) Willis, also a photographer, took many of the later photographs in the collection after his father's death in 1945. Bob Willis sold the compiled collection to the Herald-Journal, the local Spartanburg newspaper, in 1984.
Included in the Herald-Journal Willis Collection are images by several photographers other than Alfred and Bob Willis. If the photographer is known, the name is provided. The Herald-Journal donated the historical images in order to make them available to the public and to preserve them for future generations.
The Herald-Journal published a series of articles based on the photographs in the late 1980s and early 1990s. If a date is known for an accompanying article, it is included as an additional resource.
Related Terms: