About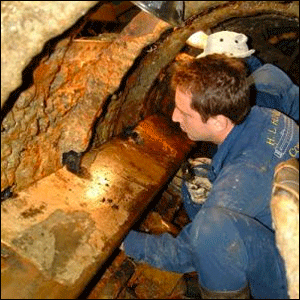 The submarine H.L. Hunley represents one of the most complex composite structures ever recovered by an archaeological team. The exterior hull is comprised of wrought-iron plates of various sizes, several cast-iron fittings and glass view-ports.
While the Hunley was lost at sea, it was going through a series of physical and chemical changes. Salts from the sea water slowly penetrated the iron hull creating a series of changes that if left untreated the submarine would rust and crumble within a matter of months. It took nearly 150 years for the salts to become integrated in the structure so it will take a little while before they can be extracted.
The submarine has sat in a tank of fresh water under an impressed current system, since it was recovered in 2000 in an effort to stop further corrosion of the iron. Upon recovery the submarine also sat in a 45 degree angle, the same position as it was found. This kept its contents undisturbed and allowed for a more accurate excavation. In 2010 the submarine was rotated into an upright position so scientists could access the starboard side and also to begin the painstaking job of removing the hard crust of concretion (a mixture of shells, sand and silt) covering the submarine's hull.
Several components of the submarine have been removed over the years in order to be treated and conserved separately. The collection shown here is an example of some of these components ranging from wrought iron plates, rivets, bolts, tools, viewing ports and some organic materials such as the crew member's bench, and Lt. Dixon's seat.
Related Terms: