About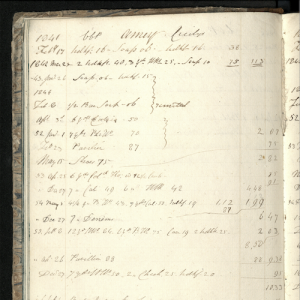 The Pinckney Family Papers, 1708-1847, collection consists of two bound volumes kept by members or for members of the Pinckney family. Several members of the Pinckney family have been distinguished for service to South Carolina and the United States. Eliza Lucas Pinckney helped make indigo a major cash crop; she was the mother of two statesmen, and she wrote numerous, engaging letters. Her son Thomas was the minister to England from 1792-1796, a major general during the War of 1812, and a successful rice planter.
The first volume is an account book, 1841-1857, documenting the enslaved persons bequeathed to Mrs. Elizabeth B. Lowndes and C.C. Pinckney by Mrs. T.M. Pinckney from Eldorado Plantation and from Mrs. E.B. Lowndes late husband. Each account lists the name of the enslaved persons and slaveholders with remarks on family members of that enslaved person or if they are deceased.
The Fairfield Plantation Book, 1775, is a clothing and blanketing book containing the names of enslaved persons (1773), children born at the plantation (1775), a list of tools given out to enslaved persons (1773-1775), cattle and hog inventory, lists of births and deaths of enslaved persons while Thomas Pinckney was in England (1792-1797) and lists of enslaved families (1773-1797).