About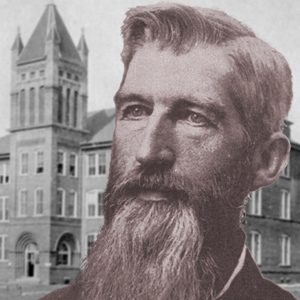 Samuel Lander, Jr. was born in Lincolnton, North Carolina, of Irish parents who had immigrated to America in 1818. He devoted his life to education and the ministry.  He graduated as valedictorian from Randolph-Macon College (then in Boydton, VA) in 1852. For a short time he practiced civil engineering and studied law. In December of 1853 he married Laura Ann McPherson.
Lander taught at Catawba College in Newton, North Carolina and Randolph-Macon College between 1853 and 1855. While at Randolph-Macon, he also earned his Master of Arts degree. In 1859, at age 26, he became President of the High Point Normal School in High Point, North Carolina. Licensed to preach in 1861, Lander became a Methodist minister in 1866. Among his Methodist appointments were The Lincolnton Seminary, Lincolnton Station, and the Presidency of Davenport College in Lenoir, North Carolina. In 1870, Lander served as co-president of the Spartanburg Female College. Sent to Williamston, South Carolina as a Methodist Minister in 1872, Lander converted a vacant hotel into the Williamston Female College.
In 1903, Dr. Lander and Greenwood officials negotiated the move of Williamston Female College to the town of Greenwood, South Carolina. Samuel Lander died on July 14, 1904, just before the college moved to Greenwood. Immediately following its move to Greenwood, the college was renamed Lander College, in honor of its founder.
This collection contains Samuel Lander's correspondence, two sermons, two orations delivered before the Calhoun Literary Society, his diaries, a manuscript of Williamston Female College's class song, photographs, and contemporary correspondence between Lander family members and the university.
Related Terms: