About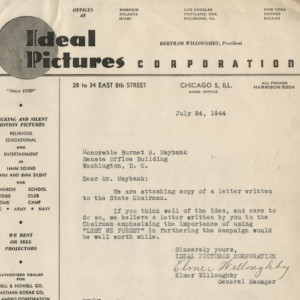 Legislative files, correspondence, printed material, voting records, and personal papers of Burnet Rhett Maybank (1899-1954), United States Senator from 1941 to 1954. Materials primarily relate to Maybank's professional life as a United States Senator and include his legislative working files and constituent correspondence. The collection also includes a small amount of personal papers concerning Maybank and his family including personal correspondence, financial material, photographs, property and real estate records, newspaper clippings and scrapbooks, and estate settlements. Major topics of this archival collection include World War II, civil rights legislation, the Fair Employment Practices Commission (FEPC), the Korean War, the Cold War, labor, price control, the Charleston Navy Yard, the Santee Cooper Hydroelectric and Navigation Project, and the Savannah River Site atomic plant.
Selections digitized from this archival collection include:
Charleston Vice 1941-1942
Democratic Committee 1944
Santee-Cooper 1943-1944
Segregation 1954
Teenage Draft
The processing and digitization of this collection was made possible through a generous grant from the National Historical Publications and Records Commission.