About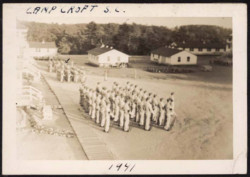 Just as it had been during the First World War, Spartanburg County was a hub of civilian and military activity during World War II. Spartanburg was fortunate once again to host an army training camp, this time in the southern portion of the county on a site that was to become known as Camp Croft.
Camp Croft was an infantry replacement training center, meaning that the men who trained at the camp were ultimately placed with various infantry units scattered across the globe. After their training was completed, soldiers there seldom remained with the servicemen with whom they had trained. The men training at Camp Croft also came from a wider variety of locations across the country, unlike the soldiers at Camp Wadsworth, who were for the most part New Yorkers and Pennsylvanians.
Included in this selection of materials are published items about Spartanburg and Camp Croft, a few materials relating to the Federal government's purchase of lands to construct the camp, official group portraits, and dozens of snapshots taken at the camp by soldiers stationed there.
Related Terms: