About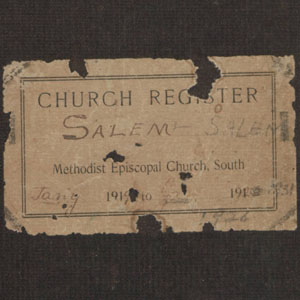 Salem M. E. Church South was located in Richland County, SC (now Fort Jackson property). It dates back to 1887 for sure and possibly even earlier to 1876. The church register is mostly from this Church.
St. Paul Methodist Church was located in Kershaw County, SC (on the Old Wire Road) and was founded in 1895. This church is found at the back of the register book.
These two church's along with new families in the Blaney, SC community joined together to form what today is called Salem United Methodist Church, Elgin, SC. The first service at this location was held in January 1942.
Robert Blank (MLIS 2013) completed the digitization of the Church Register of the Salem Methodist Episcopal Church, South and uploaded into the content management system. Blank scanned the manuscript on the Zeutschel 14000 A0 Scanner. He also created metadata for the collection following Dublin Core Metadata Best Practices. The work could not have been done without the help of Tony Branch, systems administrator for the CONTENTdm database.
Related Terms: