About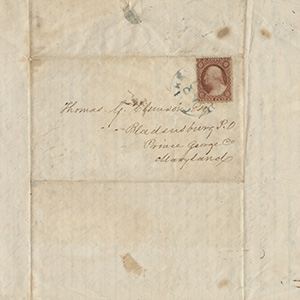 Thomas Green Clemson demonstrated the versatility which gifted people often possess in his varied activities as a mining engineer, government official, plantation owner, scientist, proponent of higher education, artist and art collector, and supporter of scientific farming. Born in Philadelphia, Pennsylvania, Clemson adopted South Carolina as his home after marrying Anna Maria Calhoun, the oldest daughter of the South Carolina statesman John C. Calhoun. Little is known of Clemson's early life other than that his father was a well-to-do merchant in Philadelphia. Clemson attended public schools in Philadelphia and the American Literary, Scientific and Military Academy in Norwich, Vermont.
The papers of Thomas G. Clemson were kept after his death by his attorney, Richard W. Simpson. Following Simpson's death, his daughter, Maria Louise, took possession of the Clemson papers. In 1915 or 1916 Miss Simpson turned the papers over to her brother-in-law, Professor Alester G. Holmes, who recognized their historical importance and the need to have them properly cared for. In 1947, Maria Louise Simpson formally donated the papers to Clemson University. Information regarding the provenance of the Clemson Papers can be found in Box 7, Folder 5 of this collection and in the Alester G. Holmes Collection, Mss 1, Box 1, Folder 3, 1930- 1935. In 2000 photocopies of Clemson family correspondence to Elias Baker, Clemson's uncle, were obtained from the Blair County (PA) Historical Society in exchange for copies of the Baker correspondence in the collection. The collection also includes accessions 93-25, 03-97, 06-40 and 06-45.
Clemson Papers are closely related to the John C. Calhoun Papers (Mss 200), the Richard K. Cralle Papers (Mss 109), the Holmes Collection and the Richard W. Simpson Papers (Mss 96). There are no restrictions on the use of this collection beyond those of Special Collections.
Related Terms: